The Story of legendary Billy the Kid is told in
"Billy the Kid's New Mexico"
that carries the viewer on a scenic journey throughout today's New Mexico.
"The New Mexico Territory and folks like The Kid were part of America's great Wild West era, a period that still fascinates us even today," said producer Joe Micalizzi.
"Unfortunately, historical fact often gets lost in the telling of the story of the West, especially when it comes to its heroes and villains."
"Billy the Kid's New Mexico" not only separates fact from fancy in Billy's rise and fall, but lovingly depicts the modern Land of Enchantment with its great variety of scenic wonders and diverse peoples.
Micalizzi's camera shows it all—from Santa Fe, the capital and home to one of the west's great operas, to the artist haven of Taos and busting Albuquerque, where the viewer participates in America's greatest balloon spectacle, riding along in a swaying gondola.
Other highlights include Roswell, capital of UFO-mania, Fort Sumner, where Billy is buried; and Ruidoso, where we campout with the colorful current day Billy the Kid's Outlaw Gang.
Micalizzi has been taking photos as long as he can remember. Before entering the travelogue field, he was a still photographer and film maker. He trained as an US Special Forces, Green Beret. He also served as Photo Editor for Veritas the Green Beret's monthly magazine, published out of the JFK Center For Military Assistance, Ft. Bragg, NC. He has won numerous awards for his innovative productions.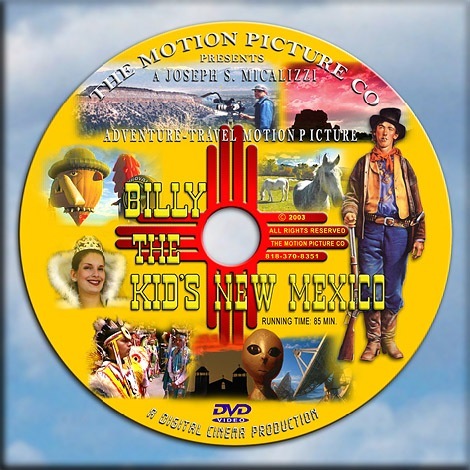 "Billy the Kid's New Mexico" DVD produced by TheMotionPictureCo.com